Everyone loves Free Swag! There is no better way to promote your organization than with fun & useful giveaways that are uniquely branded with your logo.  You could even customize awards and recognition items from or high-end selection. Cruise our promotional item catalog for the most suited products – coffee cups, pens, key chains, awards, etc.  There are over 600,000 items to choose from, so you are guaranteed to find what you are looking for. If the many choices is overwhelming we can help you narrow your search, just give us a call.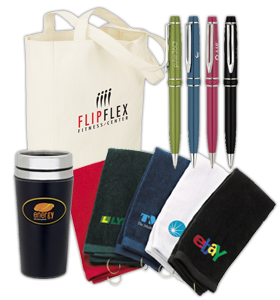 Lead Time – There is a large range for lead time, it all depends on what product you are looking for. We have some 24hr turnaround and others that take up to 3 weeks.
Pricing –  Completely depends on which product you select. Check out the Catalogs
Art Requirements – Illustrator (Vector), Photoshop, BMP, TIFF, JPEG, PDF.
Click Here for Detailed requirements in the FAQ section. *Our art department works on both Mac & PC Platforms, using Adobe CS3